| General Knowledge | Sports | Entertainment |

Test Your Trivia Prowess and Play for CASH Prizes!


Free Puzzles via Email, News about Contests for Prizes, and Web Site Announcements

Cleverly Funny and Challenging Word Puzzles!
Word Puzzles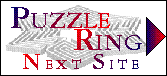 This Puzzle Ring site is owned by A2zNews.com, LLC.
[email protected]. Click for the
[ Next Page | Skip It | Previous | Random ]
Want to join the ring? Click here for info.