What's a YOT ?
The YOT is a shiny, metal disc (not a UFO) that holds a US silver dollar sized coin or medallion. The challenge is to remove the coin (without power tools). Can you open the YOT?

The solution requires logical thought, intuition and imagination.
* Hint: The secret is in the Sphinx.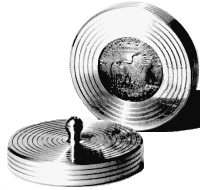 The YOT is made of high quality aircraft aluminum and comes with an attractive, sturdy storage case. It's palm sized, has a polished aluminum finish, and is available with either a US Eisenhower silver dollar or shiny medallion coin. It'll stand up to years of handling!
What People Say About It
"I tried magnets..." says Teller of Penn and Teller magicians.
"When I see puzzles in stores I solve them there and put them back...but the YOT was different! After I solved it I couldn't stop thinking about it, I kept coming back to it - picking it up, holding it, feeling its weight, replaying the solution and finally taking it to the checkout counter." .........Bruce Monson - Colorado Springs, CO (Chess Champion)
"I received your YOT today. After twisting, pushing and --yes-- even rubbing it to free the Genie... I opened it! Thank you for the intriguing puzzle." .........Ken Vitoff - Temple Terrace, FL
---
Order A YOT - You'll Like It A Lot!
The YOT is priced at only $24.95 in US Funds, plus shipping and handling. Online readers get a special $5 discount from the retail cost of $29.95 as shown below. The YOT will be your favorite toy- play with it, show it off, share it with your family and friends!
PuzzleDepot.com Readers Receive A $5 Discount!
PuzzleDepot.Com has arranged a special $5 discount for our readers. Just tell the operators that you saw the YOT at PuzzleDepot.Com to receive your $5 discount.
Order Today In Time for Holiday Delivery!
Call 1-800-99-MOUSE Toll Free, or 1-626-308-4400
You must mention the code 'PuzzleDepot.Com' to get a discount. (Mastercard, Visa Accepted)
---
Alternate Methods To Order:
Postal Mail and Fax Order Form
Just mail or fax the order form below along with payment in U.S. funds to:

HI-Q Products, Inc.
506 N. Garfield Ave., Suite 200
Alhambra, CA 91801
You May Fax Your Order To: 1-626-308-4406
Please print the order form below and then fax it in. Just copy the order form text below into the Clipboard, paste it into a new email note, type in your info, and then email it to us at the address above. This option is provided for your convenience, but it will not be a totally secure transmission.
---------------------------------------------------------
                 The YOT Order Form 
      (Note The Eisenhower Dollar Costs $1 Extra)
                               Price   Quantity    Total
                              ------   --------   --------

YOT (with medallion coin)     $29.95    ________   ________

Discount Code:PuzzleDepot.Com $-5.00    ________   ________

Eisenhower US Dollar Coin      $1.00    ________   ________

Shipping/Handling (1 YOT)  ( ) $4.00 to US Address ________

                           ( )$10.00 outside of US ________

S/H for each additional YOT    $1.00    ________   ________

Prices are in US funds only.                Total: ________

( ) Visa ( ) MasterCard No:________________________________

Exp. Date:__________ Name on Card:_________________________
           (mm/yy)
Authorization Signature:___________________________________

Name:______________________________________________________

Address:___________________________________________________

Address:___________________________________________________

City, State:_______________________________________________

Zip or Postal Code:________________________________________

Country:___________________________________________________

Phone No:______________________ Fax No:____________________

eMail Addr:________________________________________________