Request A Free Reciprocal Text Link
Thank you for your interest in exchanging a reciprocal site link with the Puzzle Depot site, which is managed by A2zNews.com, LLC. We offer free text links with sites that have pages dedicated to:
Exchange Procedure
We offer free text links, up to 15 words each, on the pages listed above. We request that:
You add a link for Puzzle Depot to your site first using the following HTML snippet choices.
Fill in the form below with your site details.
We'll then visit to confirm our link addition.
We'll add your link after verification.
Puzzle Depot HTML Link Code Snippet Choices
Your Site Has Puzzles, Games and Contest Related Pages:

Aboard PuzzleDepot.Com: Test your brain on free crosswords, puzzles, logic games, trivia contests for prizes.

Your Site Has Education or Shareware Related Pages:

Academic and Recreational Crosswords: Solve Challenging Puzzles Online and Even Build Your Own!
---
Your Site Data Input
Please input your site data into the form below to make the link exchange quick and easy:

We'll verify our link at your site and then post yours...
---
Other Advertising and Link Exchange Options
Puzzle Depot Banner Link Ads...
We offer banner ad links to existing Web sites for those who wish to direct Puzzle Depot readers to their sites. Powerful ad management software allows us to provide several benefits to the client:

Pricing May Be Based On A Per Impression or Actual Click-Through Basis
Statistics Are Tracked For Impression Versus Click-Through Responses
Predetermined Blocks Of Impressions Or Click-Throughs May Be Purchased
Status Reports Are Emailed To Client During The Ad Run Period
Ads Are Displayed Throughout The Site In Rotation Queues
Web rings allow sites with similar themes to share reader traffic. If you have a puzzle related site, the Puzzle Ring offers a free way of sharing readers with other sites in the ring. You will need to add special HTML code to allow the central server to manage the URL link setup shown below: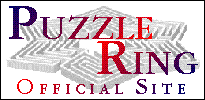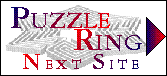 This Puzzle Ring site is owned by A2zNews.com, LLC
[email protected]. Click for the
[ Next Page | Skip It | Previous | Random ]
Want to join the ring? Click here for info.

---
How To Contact Us
For an estimate on marketing your products or Web site banner ads, please contact us via email, phone or postal mail. We continuosly monitor our email account for customer feedback and assistance, so please feel free to utilize this avenue for quick response.

Postal Address:

A2zNews.com, LLC
5722 Jones Valley Drive
Huntsville, AL 35802

24 Hr. Toll Free Phone Number: (800) 553-4305.
For International Callers: +1 256-881-4832

Toll Fax No.: (256) 885-0280.
Toll-Free Fax: (877) 867-5392.
Email Address: [email protected].