What's A YOT ?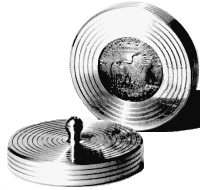 The YOT is a shiny metal disc (not a UFO!) that holds a US silver dollar sized coin or medallion. The challenge is to remove the coin without power tools.
It relies on an advanced law of physics- can you solve the YOT? Hint: The secret is in the 'Sphinx'.
The solution requires logical thought, intuition and imagination. It's fun to test your 'metal' on the YOT!
We get requests for the solution secret all the time- can you solve it without asking for help at [email protected]?
---
YOTs Make Excellent Brain Teaser Gifts
The YOT is made of high quality aircraft aluminum and comes with an attractive, sturdy storage case. It's palm sized, has a polished aluminum finish, and is available with an optional US Eisenhower silver dollar shown above or shiny medallion coin.

YOT will be your favorite party pastime, magic gadget or office toy. Here's what people say:

"I tried magnets..." says Teller of the Penn and Teller magicians.

"Help me! I want to get on with my life!" .........Roger Curran - Sherman Oaks, CA

"I was given the YOT as a gift. It does not open when I move it 3/4 right, 1/2 left, and 1/4 right. Perhaps the combination has been changed." .........Martin Gardner - Hendersonville, NC

"When I see puzzles in stores I solve them there and put them back...but the YOT was different! After I solved it I couldn't stop thinking about it, I kept coming back to it - picking it up, holding it, feeling its weight, replaying the solution and finally taking it to the checkout counter." .........Bruce Monson - Colorado Springs, CO (Chess Champion)
---
Online Readers Get A 15% Discount!
PuzzleDepot.Com has arranged a special price for you since we know you'll love the YOT. We've awarded them as prizes in our puzzle contests for years- everyone loves them! This is a great discount off the retail cost compared to other stores such as Brookstone and Ripley's Believe It Or Not! museums.
Order Now! $24.95= 15% Off Retail

Special Offer from PuzzleDepot.com

YOT Mind Puzzle

List Price: $29.95
Our Price: $24.95 + s/h
You Save: $5 (15%)


Also See Call-in, Fax, or Mail-in Order Options

Call Today for Holiday Delivery!
(Hours = 9am-5pm Pacific Time)

For phone in orders, please tell the operators that you saw the YOT at PuzzleDepot.Com to receive the $24.95 discounted price.

USA Toll Free: 1-800-99-MOUSE (66873)
Non-USA/Toll No: 1-626-308-4400