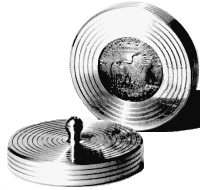 This enigmatic mind puzzle utilizes a basic principle of physics that challenges the brain power of both young and old with its simplicity and style.
Do you have the logical thought, intuition and imagination required to open it? Can you solve the YOT's mysterious secret?
Ripley's Believe It Or Not! museums feature the YOT as a baffling marvel. You can Believe It!
---
YOTs are delivered with either a standard medallion coin or an optional US Eisenhower 'silver' dollar shown here. YOT is perfect as a showcase for a treasured collectible coin or silver dollar with sentimental value!
Place YOT Orders Online For $24.95 + s/h
The YOT is priced at only $24.95 in US funds, plus shipping and handling. This is a special online discount of $5 off the retail cost of $29.95 at hi-tech stores such as Brookstone.

Please fill out the form below and select the 'Submit Order' button at the bottom. You'll receive an order confirmation page in your browser which you should print for your records.

If you have difficulty with your order, please contact us as follows or select an alternate order method shown above and to the left.
Email:

[email protected]

.
Phone: 1-800-99-MOUSE Toll Free, or 1-626-308-4400
Fax: 1-626-308-4406.
HI-Q Products, Inc.
506 N. Garfield Ave., Suite 200
Alhambra, CA 91801